MEET ANN MARIE BUERKLE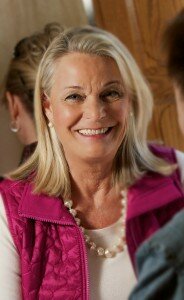 A native of Auburn, New York, Ann Marie is a nurse, accomplished healthcare attorney, mother of six and grandmother of thirteen.
After graduating as an R.N. from St. Joseph's Hospital School of Nursing, Ann Marie worked at Columbia-Presbyterian Hospital in New York City and St. Joseph's Hospital in Syracuse. For many years while raising her family, Ann Marie was a substitute school nurse. In 1994, she obtained a J.D. from Syracuse University School of Law.
Ann Marie served as an Assistant Attorney General for New York State from 1997 until deciding to run for Congress in 2009. While in the Attorney General's office, Ann Marie represented New York State with Upstate Medical University as her client, capping a professional life dedicated to improving the quality and affordability of our local health care system while expanding its patient-centered focus.
Committed to public service and community involvement, Ann Marie's parents – both first generation Americans – instilled the value of hard work, individual responsibility, and personal integrity in she and her siblings. Her father worked for Met Life for over 63 years while simultaneously owning and operating Auburn's Mohican Market. Ann Marie and her siblings spent their teenage years working at the store, as well as at the popular roller skating rinks her parents owned and managed.
Ann Marie has a record of standing up for those in need. She is a former member of the Syracuse Common Council, a former volunteer legal council for abused persons at the Vera House crisis shelter, and former volunteer legal council for Syracuse families through the Onondaga County Bar Association's Pro Bono program.
Of Ann Marie's six grown children, only one remains in New York State due to better job opportunities elsewhere. As an owner of a small business for over twenty years, Ann Marie knows that high taxes, ever expanding government giveaways, and exorbitant energy costs are driving businesses and jobs from Upstate New York. As our Congressman, she has made the needs of Upstate New Yorker's her top priority.