| | |
| --- | --- |
| FOR IMMEDIATE RELEASE | CONTACT: Caroline Buerkle |
| Date: August 6, 2012 | 315-415-7025 |
PRESS RELEASE:
Ann Marie Buerkle Receives Veterans Party Endorsement
East Syracuse, NY -This morning Representative Ann Marie Buerkle proudly accepted the Onondaga County Veterans Party endorsement at the 9/11 Memorial in front of the DeWitt Town Hall. A longtime proponent of the rights and welfare of our nation's veterans, Rep. Buerkle is chairwoman of the Veterans' Affairs Subcommittee on Health and co-chair of the Caucus on Engaging Community Support for Veterans.
"Ann Marie has worked very hard to represent her constituents and served the veterans community especially well. Her concern for veterans is truly heartfelt. Her experience as a nurse and an attorney are especially helpful in interpreting the laws she has under her consideration," said Linda Chew, head of the organization.
"As a Veteran, I am proud to recognize Congresswoman Ann Marie Buerkle, as she receives the important endorsement of the Onondaga County Veteran's Party. In her role as the Chairwoman for the House Committee on Veterans' Affairs, she is a consistent voice for Veterans, both locally and on the national level," said Senator John A. DeFrancisco.
Buerkle believes it is important we support our active duty military, Veterans, and their families to show our gratitude for the freedom they guard through great sacrifice. "This is an issue where we have the opportunity to come together for those who give their lives in the service of this great nation," said Buerkle.
In January of this year, Rep. Buerkle held a Mental Health Symposium where a panel discussed new approaches to treating Post-Traumatic Stress Disorder (PTSD). And in April, Buerkle partnered with the Institute for Veterans and Military Families at Syracuse University to hold a Conference on Engaging Community Support for Veterans. The first of its kind nationwide, the conference was aimed at offering community leaders the tools and resources necessary to help reintegrate veterans to civilian life; the discussion will serve as a model across the country.
In July, she partnered with Mike Michaud (D-ME) to host a Member briefing on Veteran Students' Mental Health. "Servicemen and women who have experienced several combat tours often suffer Post-Traumatic Stress Disorder (PTSD). I believe it is important that we as a community can detect the symptoms of this condition, so we can help our soldiers come through it," Buerkle said.
Also last month, she successfully legislated the renaming of a local Post Office after Marine Corporal Kyle R. Schneider, a Baldwinsville native killed in action on June 30, 2011, at the age of 23.
Rep. Buerkle recently introduced the Veterans Sexual Assault Prevention and Health Care Enhancement Act, which passed unanimously in the House and Senate and now awaits the President's signature. Of the legislation Buerkle remarked, "As legislators we have a duty to our veterans and their families to ensure they are cared for. I am pleased the House and Senate were able to come together and support this important legislation."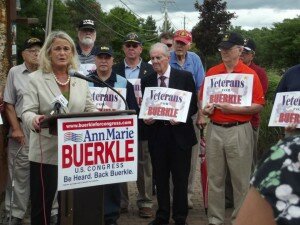 The Republican, Conservative, and Independence Parties have also endorsed Ann Marie Buerkle for Congress in New York's 24th Congressional District.